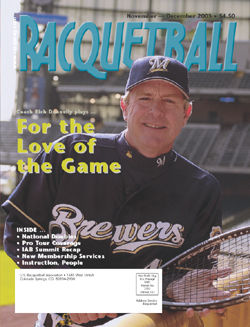 Milwaukee Brewers third base coach Rich Donnelly is a racquetball fanatic — and takes on the pros at Shea Stadium. Photo: Scott Paulus.
Larger View
To view articles specified as ".pdf" you must have Adobe Acrobat Reader software available [download it here].
SORRY! We glitched ... and the right hand side of the rankings spread was mis-printed (repeating the left content), leaving out a portion of the women's rankings, and all of the junior standings. We apologize, but offer the new page to you here, and also as a keepsake .pdf download.


November - December 2003
Volume 14, Number 6

features
For the Love of the Game ... by Ryan John
If you are lucky enough to engage in a conversation with Rich Donnelly, don't expect to hear him tell tales of Barry Bonds, Richie Sexson, or Larry Walker, although he has coached all of them. Instead the third base coach for the Milwaukee Brewers will talk of Sudsy Monchik, Jason Mannino, and Rhonda Rajsich — the superstars of his favorite sport ... racquetball. [ article | sidebar ]

---

Karp & Ellis, Rice & Russell Win National Doubles ... by Ryan John
Returning to Minneapolis, this year's National Doubles event held some surprises for players and fans alike ... [ daily reports | photos | final results ]

---

IAB Summit in the Rockies ... by Ryan John
In an effort to show members, manufacturers and state associations that the USRA is moving in a new direction, the organization revamped its annual conference and offered the all-new 2003 International Association of Businesses USRA Summit in the Rockies. ... [ re-cap | online summary ]

---

Where are they Now? ... Shannon Wright
Well, maybe it IS brain surgery, after all ... by Lynn Adams & Caryn McKinney
In the late 1970's and early 1980's, Shannon Wright dominated women's pro racquetball ... now two decades later, she's completed the Medical Scientist Training Program at the University of Minnesota and was recently awarded her PhD in Neuroscience. [ article & photos ]

instruction

---

New "Players Helping Players II" Campaign Kick-off ... Remember the USRA in your year-end giving plans, and receive valuable, limited-edition premiums!
[ donate online ]

---

This preview edition may contain added "online exclusive" content and photos which do not appear in the print version. [ more ]