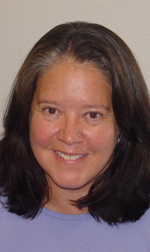 FROM THE EDITOR: Silly Rabbit
by Linda Mojer
Well, of course I know we're not TIME magazine here, but really ... don't you still trust the printed word when you truly want to know what's going on? With print, the main operative principle is simply that you have to make every effort to get it right before you start the presses. A physical press run of any size requires commitment to basic journalistic principles of accuracy, or what do you have? The Racquetball Inquirer ... ?

So, from time to time, when I get that nagging feeling that we're just fooling around with this little niche publication, I have to remind myself that — no matter how small — there are still professional standards that every editor and publisher are bound to uphold.

The Society of Professional Journalists breaks down its Code of Ethics into four parts: Seek Truth and Report It; Minimize Harm; Act Independently; and Be Accountable. Pretty straightforward, in my book. A similar document, governing the Associated Press Managing Editors stresses: Responsibility; Accuracy; Integrity and Independence. All high-minded ideals for those dozens of reporters and department editors at TIME (or even Sports Illustrated, for that matter) ... but how does that relate to our little, specialized bi-monthly? It's only RACQUETBALL, after all ... right? Wrong. We have exactly the same tasks and responsibilities to our readers.

But on the business end, the publisher (USRA) is in a bind. It has to find more and more creative ways to underwrite this little production. How does it enhance the bottom line, without compromising quality? Without passing along more costs to the subscriber, advertiser, member? Without cutting back pages, or even the number of issues?

We have a new marketing department, working feverishly to drum up some major sponsorship dollars to help the cause. We have another fundraising campaign in the works. We have a dedicated staff, cutting corners at every turn. And one of the most unusual things we have is a one-of-a-kind, long-running, target market publication with a quirky editor who treats it like it's TIME magazine. Silly rabbit.
Where does the time go?
September/October 1993 -- November/December 1999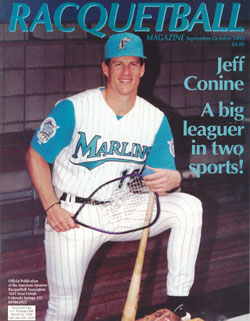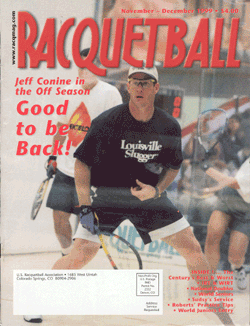 P.S. So what's the meaning of these covers? At press time with our featured baseball personality, the Marlins had just won the World Series, with the help of our favorite big-leaguer, Jeff Conine. It seemed like just the right time to slip in a line or two, to congratulate him and show off his covers!
Clarification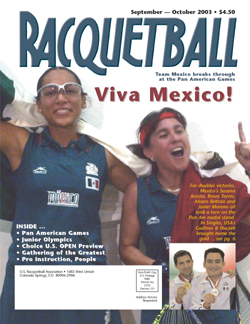 We received some anonymous comment about the September/October cover choice, featuring the Mexican women's doubles champions in celebration at the Pan American Games. In it, some opinions were voiced that bear response and clarification.

As the official publication of the USRA, the International Racquetball Federation and both pro tours, RACQUETBALL is ethically bound to consider "cross-over" players from each of those constituencies for cover placement — given any outstanding career achievement, regardless of gender or national origin. It was on that basis that the editorial selection was made to feature players who had not been on the cover previously.

Each of the four cover subjects (main photo and inset) are USRA members in good standing. Each are members of the IRF, representing a national team competing in the sport. Each are touring professionals, highly-ranked on the IRT and LPRA tours. And finally, the women's doubles team logged a first-ever career peak with their win, at an event that is considered to be a pinnacle in international competition.

It is often difficult to put aside our national pride to focus on what is a more objective process of selecting how best to present the sport in a far-reaching, diverse and global sense. Being able to do so is what gives legitimacy and integrity to the sport's single, official publication. — Editor.