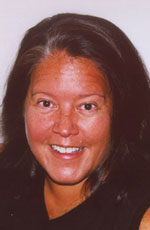 Want to do your part? Go to the online donation form and make your tax-deductible gift today!
FROM THE EDITOR: What do you really want ... ?
by Linda Mojer
Hmmm ... so what's new with you? Has everyone snapped out of their post-holiday funk yet? Begun the new year with a renewed sense of well-being and overall good cheer? Recovered from the icy blast of reality offered up in the last issue?
Imagine my surprise at hearing (secondhand, of course) that readers had been taken aback at being presented with some cold, hard facts about the sport ... from the USRA's financial woes refrain, to the manufacturers matter-of-factness about the market. But hey, who thought we were tennis? It takes a special kind of unique, clever, intelligent, kind and well-meaning type of individual to really get in there and stick with racquetball. Either you got it, or you don't. If we really took it all-so-seriously, there'd be nothing but bodies lying around (or heads piled in a corner). C'mon ... it had to put you in the mood for a little holiday shopping, didn't it?
In any case, it's a brand new year, and ... well ... we just have to push on. Want to do something about it? You'll have your chance. In the very next issue: board elections. Vote for individuals that you truly think "fit" the profile of a board member for a non-profit corporation. Think (literally) "non-profit" ... and pick those who can do the best job of assisting in the care-and-feeding of an organization with a lot of potential and good intentions — but without the substantial financial resources it needs to realize them.
Right now, your dues underwrite a tidy package of basics: a pretty snappy magazine (if I do say so myself), a couple of info-packed websites, some athlete insurance, and a comprehensive infrastructure of state-based local organizations to help keep the sport active in your area by supporting sanctioned events. Is there more that you want? Need? Can't live without?
There's been a lot of buzz lately about a new rating system for the sport. Do you want/need one? How badly? Would you be willing to underwrite some added costs to make it work? What if it's unwieldy or complicated? Who's going to manage it from the "grassroots" up? If we don't have the resources ($) to do it right, should we do it at all? Or wait? Or what? It's classic chicken-and-egg. What comes first, the need, or the ability? If the sport truly needs it ... are we able? If we're not able to afford, or manage it ... do we need it?
These are the types of issues that the national staff and board of directors have to wrestle with, year-round. And when it comes right down to it, it's all about resources and setting priorities. So if its information retrieval we need ... who's going to give us the brand-spanking new network-server-interactive- internet-website thingie that's going to solve all our data, recordkeeping, education, communication and public service needs in the new year (and someone to drive it)? I guess it's never too early to start a new letter to Santa ...