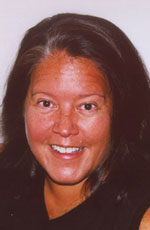 Want more information on how to set up simple event results reporting? Go to usra.org "Sitemap/Index" then follow the link to "Promoting your Events."
FROM THE EDITOR: Start your Pencils ...
by Linda Mojer
It's state singles and your match is scheduled at exactly the same time as the Open finals. Darn! You can't watch, but you really wanted to … so you finish your match (the winner, of course) and corner the first reliable source you can find to fill you in. Who won? How many games? Tiebreaker? What happened? Tell me … tell me!

Your source is breathless … it was so close, they say: 15-14, 15-14 and it could have gone either way, either game! Or blasé … it was over before you knew it, they say: 15-zip, both games. Or … it was 15-0, then 0-15, then an 11-0 tiebreaker (who had brain death there?). Or … it was 15-14, 14-15, 11-10 and ended with an avoidable! So-and-so went absolutely nuts …! But what if there isn't anyone around to fill you in? You walk over the drawsheets, where the name might be filled in, but that's it — no score.

So much of how we experience racquetball is anecdotal – in just this way – that we've come to accept that type of "inside information" (or lack thereof) as the standard for the sport. If you don't have a reliable source, you simply aren't going to find out what goes on. But it doesn't have to be that way, and I'm here to tell you that it's easy to fix (hallelujah!). It takes about 10 seconds per match, and anyone can do it. Tournament directors, start your pencils …

This season, why not adopt the practice of writing down the scores from match cards, on your small drawsheets, when they come in? Then, instruct your "posters" to do the same on the big drawsheets. It's a little more effort, but it can make a huge difference in promoting your tournaments on the back end. And if you do it as you go along, it's much easier than hunting through scads of score cards to re-construct the information after the fact. Make your results public, accurate and complete (promptly), and it will go a long way toward legitimizing what is too often viewed as a strictly a recreational pastime.

With your scores recorded consistently, someone can easily pick up the final results and email them to the newspaper; someone else might be able to write a story for your state newsletter. Those same results and reporting can be turned into content for your state's website and before you know it, local racquetball is on an equal playing field with its much bigger counterparts. Scores show how well a player did (straight low-scoring games, or tiebreakers all the way through?), how tough the field was, and allows people outside the sport (from reporters to potential newcomers) to relate to racquetball the way they do with baseball, basketball, tennis and golf. Admit it — you've seen T-ball results in your paper. Know how they got there? Millions of soccer moms and little league dads can't be wrong ...

So for the coming season, make sure you can say "Ladies and gentlemen ... the results have left the building" after each event. Who knows where they'll end up? It sure can't hurt ...