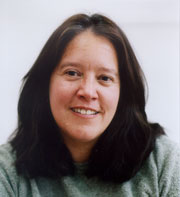 FROM THE EDITOR: Ramping Back Up
by Linda Mojer
As I recall, I actually became involved in this "RB thing" just as the sport was ramping-down in the late 80s (oh, that's where my youth went). Since then, I've often wondered what I would do if racquetball became even slightly more "conventional" again — you know, integral to the cultural landscape, when people freely admit to having a little obsession going? That sort of thing? Lately, I'm having to do a bit more than wonder.

As I mentioned in the last issue, we're all very proud of our cover subject — Chris Coy — for his role in bringing racquetball way up on the radar screen with his high-profile award from Sports Illustrated back in December. His story, in itself, is inspirational and the recognition by SI was well-deserved. You can read all about this special youngster, with this online preview.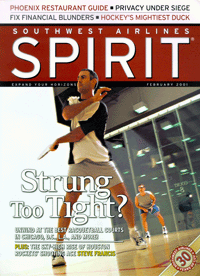 Then, just before press time, we received copies of the February issue of Southwest Airlines in-flight magazine. Unless you flew with them last month, you missed it, but racquetball was the cover story on that far-flung publication. With a circulation of over 300,000, it's quite possible that we recovered more than just a few over-stressed executives from that piece alone. We hear it all the time: "I used to play racquetball ... liked it a lot. I just don't have time anymore." The article "Strung Too Tight" suggested that racquetball is one of those things that relieves the stress of overburdened schedules. If you make the time, it will make you feel better. That sells.

On the global front, our internet projects continue to develop nicely. At the Leadership Conference, we announced the latest new component to our Active.com partnership: online membership sign-ups and renewals. No more arguments at the tournament desk ... you can now renew your membership online just days before an event and receive an instant email confirmation of your transaction, at the same time that a duplicate notification arrives at the national office with your application details. Bam! You're in the computer. For those of you, like myself, who can't function without a little instant gratification now and then, doesn't that make you feel better?

Next we'll work on an online calendar (the entire USRA sanctioned event listing in one spot) ... and oh, I don't know ... maybe working with a cable channel to provide racquetball coverage on a regular basis ... more mini-posters to dress up your club bulletin boards (see pages 32/33). With racquetball becoming so popular again (it's a Survivor alright), I just can't imagine what's next ... (sigh).