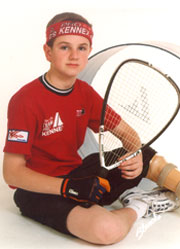 Prime-Time
Chris Coy
by Billie Jo Lucero
Some 13-year-old boys like to watch television or play video games to fill their time. Others might wander outside to ride bicycles, scooters, and hang out with friends. Chris Coy's parents did not expect him to ever ride a bicycle, let alone be awarded Sports Illustrated's inaugural "Young Sportsman of the Year" award last December.

This future racquetball champion had been born with cancer in his stomach, which was discovered at five weeks of age. At three, he was diagnosed with a vascular infection that spread down his leg. The Coys endured three years of chemotherapy and Chris's left foot and ankle were amputated at age four. He began preschool using a prosthetic limb below the knee.

"In the beginning, there was a lot of adjustment," Coy's mother, Susan, said. "He didn't want to wear (his leg) to preschool. So we decided that we would cover it up, so that the other kids wouldn't see it. That seemed to help him, and as he got more comfortable, he began wearing shorts."

At age seven, Coy first became interested in racquetball when his parents bought "The Health Club" in his hometown of Elk City, Oklahoma. "I spent a lot of time watching the guys play and would get in the court and practice on shots that I watched them do," he said. Everyone at the club would show him the game, but Coy always had his dad coach him at every tournament.

"I learned a lot from these guys," Coy said. "One man in particular, his name is Mike Dobson. He used to always tell me, 'Chris shoot your shots. It doesn't matter if you skip it, because eventually you're gonna have those shots down so good that no one will be able to return them'." Coy said he learned from that advice and realizes now that good shots and consistency is what it takes to win.

And his love of racquetball has also helped to manage his other medical conditions. "Many of the kids with prosthetics become couch potatoes. They don't get out and become active, which Chris needs to do in order to stay in shape to help combat his other conditions. Racquetball has been a great way for him to stay in shape," Susan said.

But there are still barriers to overcome. The family must deal with the cancer issue and Coy has suffered some heart damage from the chemotherapy. There is no bend or flex in his prosthetic leg, making it difficult for him to hit forehands. Doctors at the Shriner's Hospital in Dallas have said they will be able to fit the youngster with a workable leg in the future, allowing flexibility in the foot and ankle area. Right now, the prosthetic leg is easily broken. Susan said, "Every few months we have to get a new one, because he'll dive and slide on the court with his leg and tear it up. He wants that mobility, and tries the best he can to get it out of what he has."



This determination has brought the youngster extraordinary success. Chris played in his first Junior World tournament at the age of eight, boasting a sponsorship from Pro Kennex. He continued to play and improve his game with his dedication and four-hour-a-day practices. Susan said, "Pro Kennex believed in him." In 1998, he captured his first medal at the Junior Olympic championships: a silver with partner David Lewis of Colorado in the boys' 10-and-under doubles. Later that year, Coy earned two silver medals in the boys' 10- world junior singles and doubles competitions.

Last year, Coy also played at the adult U.S. National Singles Championships, where he won the men's 24- C/D skill-level division, playing against opponents over 10 years his senior. In Men's C, Coy went on to win the gold medal after beating the top-seeded player (who was 41) in the semis.

Even with his tournament successes, Coy feels the Sports Illustrated award was one of the most prestigious awards he has ever received.

"This award was not just for racquetball, but for all sports and junior athletes of all ages." he said. "I was extremely proud that the sport of racquetball got noticed and hope it will help in the future of our sport."

The award was presented to Coy on December 14 by tennis star Serena Williams and *NSync's Justin Timberlake and Chris Kirkpatrick at the Beacon Theatre in New York City. After CBS's one-hour telecast of SI's "Sportsman of the Year Awards 2000" the word was out on the street.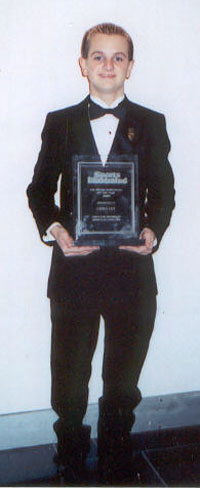 Other athletes receiving awards on the broadcast included Tiger Woods (golf), Venus Williams (tennis), Derek Jeter (baseball), Curt Warner (football), Shaquille O'Neal (basketball), and the U.S. Olympic Team's gold medalists from the Sydney Games. Coy said he watches a lot of sports on television and "it was awesome to see those athletes in person."

He got a chance to speak to Woods, former boxers Joe Frazier and Sugar Ray Leonard, former basketball player Bill Walton, several of the gold medalists, and many others.

Coy found out he was being considered for the award on his way to the U.S. Open in Memphis last November. His family received a call from Sports Illustrateds New York office, saying that out of 200 junior athletes, the magazine had chosen six finalists. "I thought it was pretty awesome just to be in the top six," Coy said.

Upon arrival in New York, the family met with Sports Illustrated, along with the other five finalists. "They explained the details and told us then that I had won. I was shocked and a bit overwhelmed."

But Coy recovered quickly. He was already focused on his next event, the World Juniors in California which started on Saturday the 16th. Reportedly, he turned down an appearance on the Tonight Show with Jay Leno, excusing himself because he "had to go play in a tournament."

Coy has also received awards from his home state. January 5, 2000 was proclaimed "Chris Coy Day" in Elk City, Oklahoma. Governor Frank Keating, Senator Gilmer Capps, and the Oklahoma House of Representatives also have presented Coy with awards.

He is seen as a role model in Oklahoma and throughout the racquetball community. Coy said classmates at Grandview School in Elk City are proud of his achievements. Likewise, teachers and parents have been very supportive. This support has helped to give Coy the confidence he needed to succeed. "They don't look at Chris as having a handicap, but as an example for their own kids," Susan said.

Racquetball has given Coy a new set of friends and family. "He seems to know everyone when we come to these competitions," Susan said. "And if he doesn't know them, he will by the time it ends. Everyone seems to love him."

Coy named several athletes who he looks up to. "In racquetball there's Sudsy Monchik, Cliff Swain, Rocky Carson, Jack Huczek, Jason Mannino, John Ellis, Kane Waselenchuk, Mike Guidry, Mike Locker, Todd O'Neil and Ruben Gonzalez. Of course there are the girls: Christie Van Hees, Jackie Paraiso, and Cheryl Gudinas." In other sports, he looks up to Tiger Woods, Venus and Serena Williams, and Gustavo Kuerten, among others.

At his young age, Coy has already set goals for his future that include following in the footsteps of some of his role models.

"I want to win a national and junior world title. And when I'm old enough, I want to play on the U.S. Junior National Team." He'll become eligible to qualify for the team when he turns 14. Other plans for Coy are to get a good education, and move to California to work in the racquet industry, designing new racquets. And he wants to eventually play on the International Racquetball Tour.

Seeing how much he's already accomplished, there's little doubt that he'll manage all that, and much more.