2003 Gathering
the Greats II
by Theresa Sumner
Click on photos
for larger views ...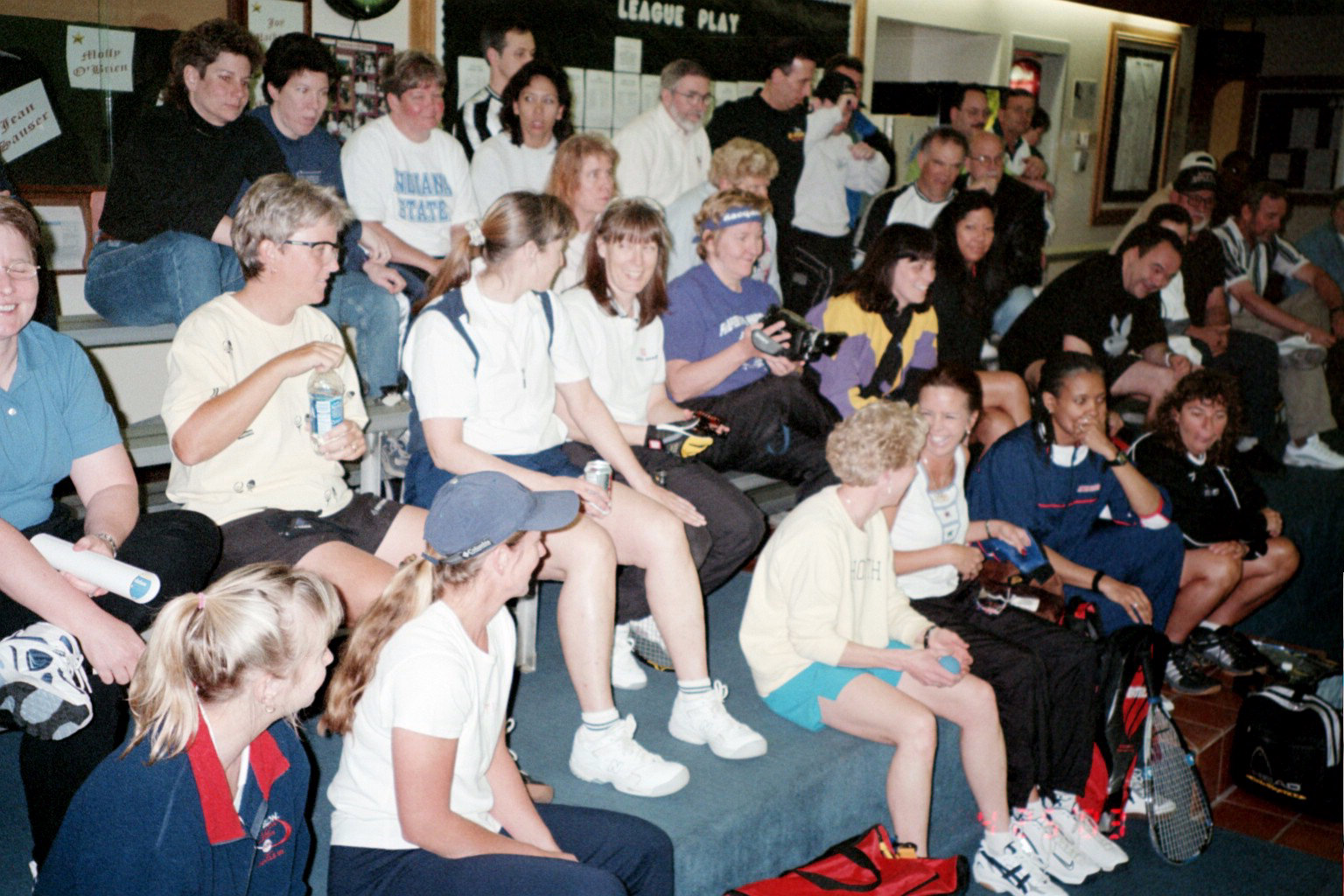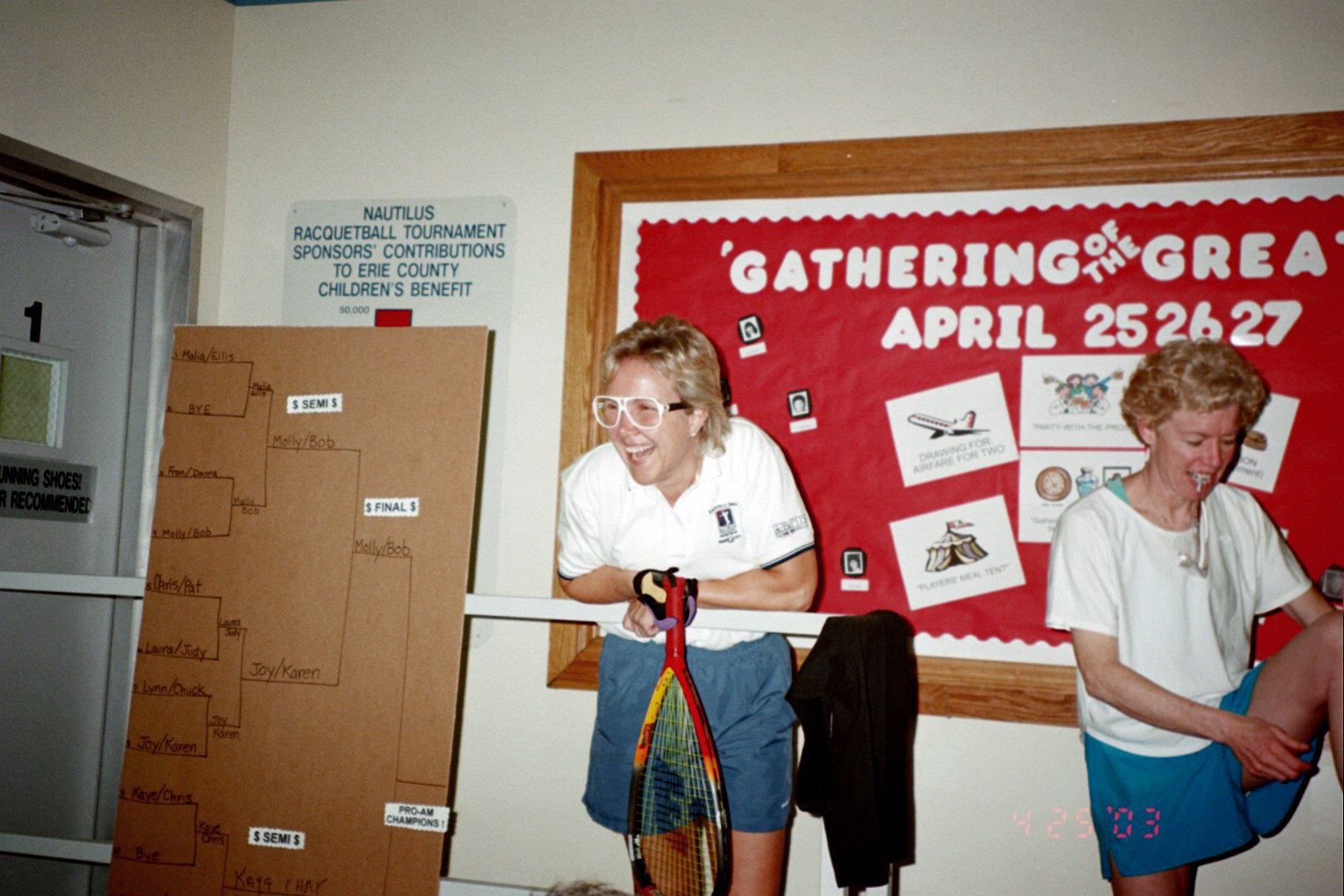 Caryn McKinney & Molly O'Brien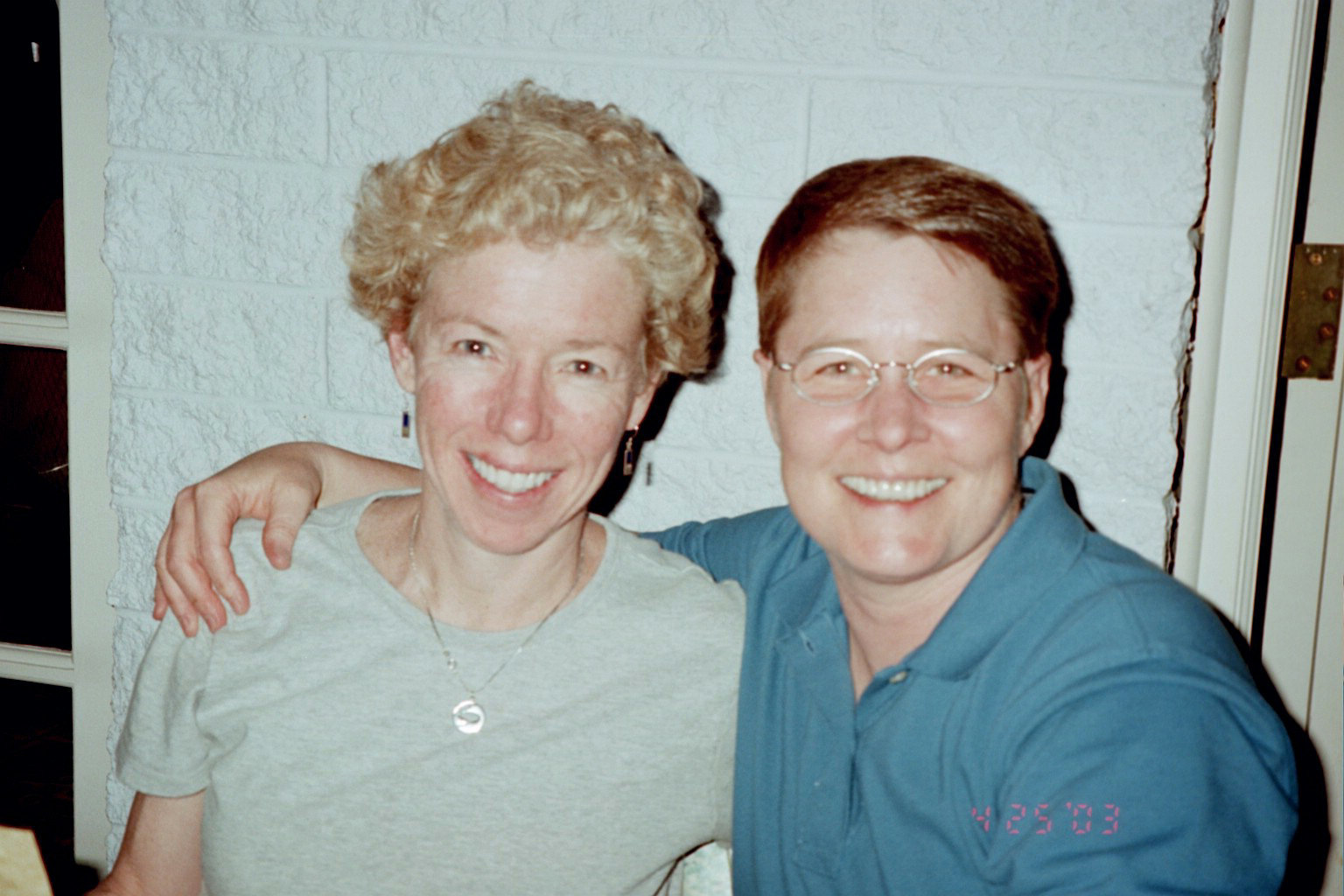 O'Brien & Shannon Wright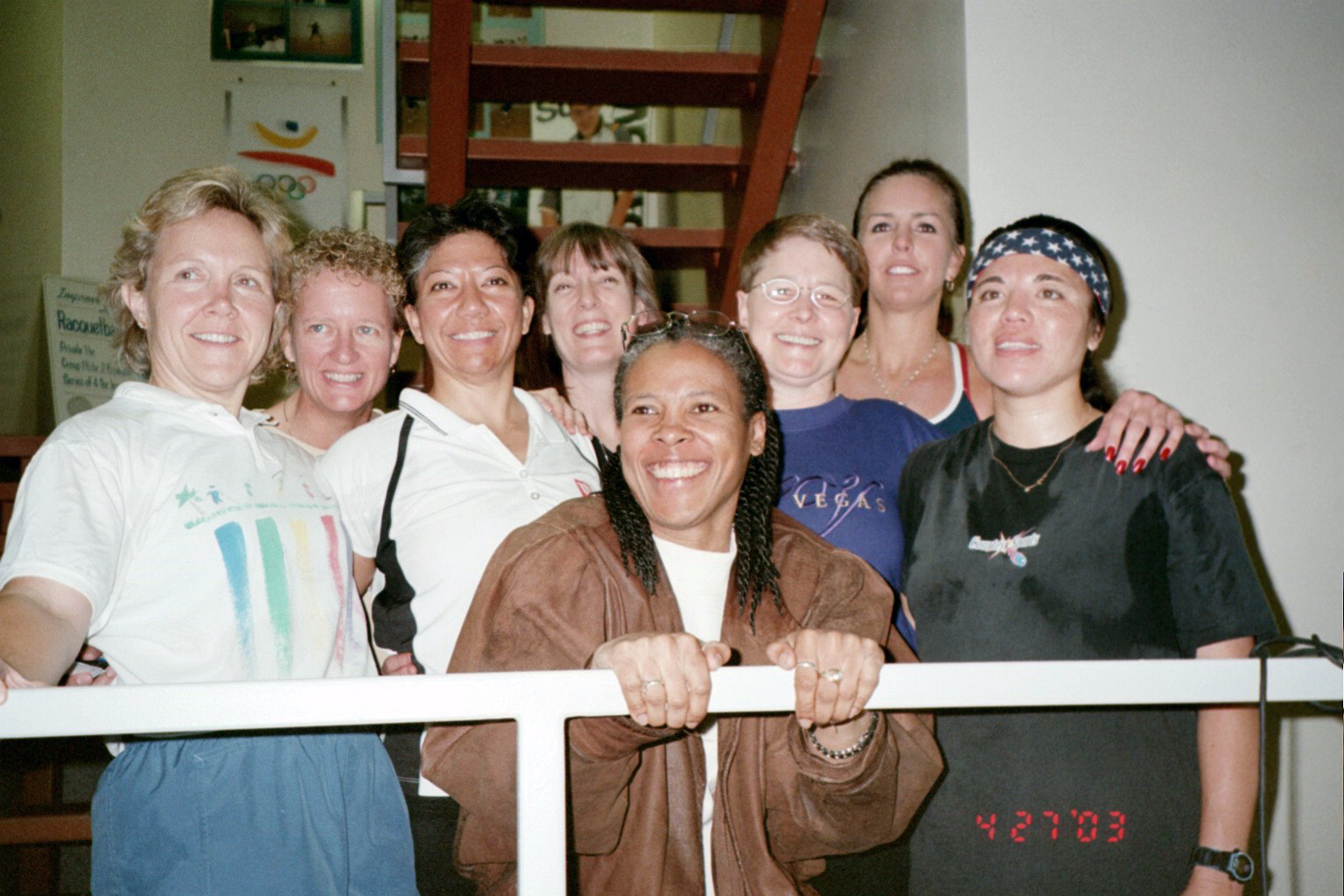 McKinney, Faulkenberry, Bailey, Adams, Galloway,Wright, Fenton, MacKenzie. Photos: Shannon Wright.
The only event of its kind ever to take place in the history of the sport, the Gathering of the Greatest II succeeded — again — in reuniting some of the world's greatest female racquetball professionals for a weekend of intense play. Lighting up the courts of Nautilus Fitness and Racquet Club in Erie, Pennsylvania, fifteen of the finest female pros of the 70's, 80's, and 90's gathered to raise scholarship money for the John Tramontano, Jr. Education Foundation.
Thanks to extremely generous local and equipment sponsorship; enthusiastic support from the Pros, and a well-crafted schedule of events by tournament director, Julee Nicolia, the event proved to be everything that any "gathering of the greatest" should be. The Pros were a class act, both on and off the courts. Players and spectators alike reveled in the charged atmosphere and superb hospitality, which included gift packages for each entrant and a food tent boasting everything from bagels and coffee to catered Italian dishes and even a pig roast. It was the right combination of great racquetball and serious fun as attendees raised thousands of dollars for the designated charity.
Guests of honor included Lynn Adams, Malia Bailey, Fran Davis, Chris Evon, Laura Fenton, Lorraine Galloway, Kaye Kuhfeld, Mary Lyons, Joy MacKenzie, Janell Marriott, Caryn McKinney, Molly O'Brien, Susan Pfahler, Jean Sauser, and Shannon Wright. Upon arrival at her complimentary Clarion Hotel room, each pro found a welcome package containing a commemorative sweater, wall clock, wine, chocolate, and more. As has become tradition, the Pros also enjoyed a private, poolside dinner on Friday night.
Beginning with the Friday Pro-Am event and ending with the Amateur Doubles finals on Sunday afternoon, play filled all eight courts. In between, double elimination pro Doubles and Amateur Doubles events kicked off on Saturday with 56 amateur teams placed into seven divisions. To the delight of the crowd, seven pro teams rotated on two pristine glass courts. A roster of thirteen Pros was rounded out at the last minute by the addition of one-time Erie local Karin Sobotta, and the Pro Doubles tournament captivated fans throughout.
Sunday morning brought the much-anticipated finals, featuring McKinney and Fenton against Bailey and MacKenzie. The match was complete with news cameras, a photographer, and sideline commentary by Sobotta. Spectators stood on chairs, sat on the floor, and lined the balcony to watch the competition, and even the well-traveled food tent was forgotten in the playoff excitement.
Combining tight teamwork with a tenacious drive to succeed, Bailey and MacKenzie took the first game, 15-8. Replying with sound serves and smart play, McKinney and Fenton pulled together to force a tiebreaker after taking the second game, 15-12. The fluid play, poise, and tempo control employed by Bailey and MacKenzie, however, became most evident during the tiebreaker. Mackenzie, three months pregnant at the time, managed to twist into three half-dives to keep the ball in play and once took a shot from under Bailey's feet when Malia jumped over a ball off the back wall. Bailey and MacKenzie went on to take the match with a decisive 11-4 tiebreaker win.
Fundraising began Friday evening, successfully raising $3420 by the evening's end. Amateurs opened bidding to team-up with a Pro, with the first auction donation setting the tone by topping out at $600. Each top bidder then selected a pro partner through a blind draw and no one was disappointed, as McKinney took every diving opportunity and Adams entertained opponents and spectators alike. Many pros graciously offered playing tips and strategic advice during their one-on-one court time with their partners. In the finals, McKinney and her partner, Joe Garbarino, defeated Molly O'Brien and Bob Martini.
The big bash took place Saturday night at the Party with the Pros gala in the Clarion Hotel banquet room. A long table lined with bouquets, wine, and pictures of the Pros focused everyone's attention on the guests of honor. Nicolia, in her ongoing efforts to recognize these renowned athletes, enlisted the talents of local artist Deb Peffer to provide a little ambiance for the gala. Peffer did so by sketching 5-foot tall caricatures of every pro, each portraying the athlete with a little "flair."
General Manager of Nautilus Fitness and Racquet Club, Mike Davis, opened the evening by recognizing the attendees, while Lynn Adams played emcee, auctioneer and comic relief. Between them, they assisted in raising thousands more dollars as many of the 250 guests bid on such donated items as racquets signed by a few top touring Pros, racquet bags, golf clubs, a softball bat, and various other athletic equipment.
In a surprise appearance, U.S. Air Force Colonel Barb Faulkenberry showed up for the banquet, after flying directly from the Prince Sultan Air Base in Saudi Arabia. She had planned on playing in both of the Gathering of the Greatest tournaments but had, up until this point, been unable to depart from her tour of duty in the Middle East.
Events such as the Gathering of the Greatest hold multi-tiered significance for our communities, charities, and athletes, and more specifically, for the sport. For many fans, this was not just an opportunity to watch great racquetball; it was a chance to witness, firsthand, the outcome of years of dedication by a few female athletes focused on a common goal. Thanks go out to all who so graciously donated time, money, and talent for the benefit of so many.
As happens with any great show, repeat performances are in high demand. For your chance to take part, look for a Gathering of the Greatest III. [Read the print coverage in RACQUETBALL, Sept/Oct 2003]