Croft & Fisher lead Junior Winners
[Excerpt] by Ryan John
Site Releases
Results
Recordbook

In June the country's best junior racquetball players converged to the Executive Health & Sports Center in beautiful Manchester, New Hampshire for the Head 30th USRA Junior Olympic Championships. It was only the third time that the tournament has been held on the east coast and the first since 1997 when it was held in Baltimore, Maryland.

The Executive is also the home club of U.S. Junior Team Head Coach Kelley Beane where she works as the Court Sports Director. Coach Beane put together a wonderful volunteer staff that helped the USRA run a successful tournament. "Kelley and her staff went above and beyond the call of duty," said USRA Event Coordinator Heather Fender. "Without their help, the tournament wouldn't have been as successful as it was."

Not only did the Executive welcome the tournament with open arms, but New Hampshire Governor Craig Benson declared Saturday, June 28, to be Junior Racquetball Day for the state.

Changes ... The U.S. Junior Team selection process had changed since last year's tournament. Now, instead of the top three singles players in the boy's and girl's 18-, 16-, and 14- making the team, only the top two would earn spots — adding even more drama to the semifinals. Also changed was the appointment of the top doubles pairs to the team, from the same age groups, allowing the best doubles players to compete for roster spots on their own merit, and adding importance to fields that had formerly only been considered "warm-ups" for singles.

Fisher Leads Girl's Divisions
A Whole New Ball Game

Unlike most of the boy's divisions, there was a clear favorite in the Girl's 18- ... top seeded Adrienne Fisher. Fisher had won both the girl's 18- and 16- titles a year ago and just ended an unprecedented four-year winning streak at the National High Schools.

In a small draw, Fisher found herself in the semifinals right off the bat, along with the other top seeds, who also advanced to battle it out for team spots. Ironically, both semi match ups pitted doubles partners against one another. Fisher would take on No.4 Katie Ferguson and No.2 Da'Monique Davis faced No.3 Jesi Fuller.

Fisher advanced past an improving Ferguson in straight games with identical scores of 15-5, 15-5. Davis and Fuller re-played their quarterfinal of last year, which had kept Fuller off of the national team. Fuller, who gave up track in her senior year to concentrate on racquetball, earned her revenge, 15-4, 15-6.

"It feels good because I lost to her last year," Fuller explained. "I'm glad I was able to go through her to regain my spot on the team."

In another rematch, the girl's 18- echoed the high school nationals in March. It was there that Fuller discovered a chink in Fisher's seemingly impenetrable armor. Although Fuller eventually lost, she was able to take Fisher to a tiebreaker — something most junior challengers have had trouble doing.

"I was thinking about it actually (the high school final)," Fisher said. "I know she's tough and I wanted to play well and not go to a tiebreaker."

There was no need for a tiebreaker as Fisher took advantage of early mistakes by Fuller and rolled to a 15-1, 15-8 victory. Fisher mixed up her serves, as well as her shots, against Fuller to keep her off balance.

"She's quick and I know that when she sits on something I'm done," Fisher explained. "I can't react as quickly as she can so I tried to keep her guessing."


Wide open for the first time in several years, the Boy's 18- division featured Ben Croft and Dan Sheppick in the top seed positions, followed by several other top contenders including Clay Burris, Brandon Shoemaker, and Travis Woodbury.

The first few rounds advanced without incident. Brad Slocum recorded the first upset by knocking off No. 8 Marc Moccia in an 11-6 tiebreaker in the round of 16, before running into top-seeded Croft in the quarters. Of the remaining seven seeds to face off in that round, No.2 Sheppick, after surviving a close first game, got past No. 7 Brady Hernandez, 15-13, 15-5, while No.4 Shoemaker defeated his doubles partner, No.5 Woodbury, in straight games of 15-9, 15-11.

In the remaining turnover, No.6 Shane Karmelin surprised everyone by defeating No.3 Clay Burris to earn a spot in the semifinals. It wasn't that Karmelin took the match, but the ease in which he did so, 15-4, 15-11.

Later Sheppick turned the tables on Karmelin, ending his run in a 15-7, 15-3 rout, thereby moving into the finals and onto the junior team. In the remaining semi, one of the most anticipated match-ups of the tournament, Croft defeated Shoemaker in two close games of 15-12, 15-11.

This Sheppick vs. Croft rematch echoed not only last year's boy's 16- final, but also the most recent U.S. High School Nationals. Sheppick had been able to defeat Croft in both of the previous match-ups, although Croft had been forced to withdraw from the high school finals at 4-4 in the tiebreaker after severely spraining his ankle.

When the games were split to force a tiebreaker, USRA Executive Director Jim Hiser was called in to calm the contestants down, after each had committed several unsportsmanlike acts. Both downplayed the incidents, claiming instead that it was just misinterpreted gamesmanship.

With a national championship on the line, both players abandoned the head games and concentrated on their racquetball. Croft came out of the gate hot and took an early 6-1 lead before Sheppick made a comeback to pull within 1 at 6-5. But that was as close as he would get, as Croft ended the match on a 5-0 run to capture his first national championship, 11-5.

"This is the best feeling ever," Croft said after his match. "I've never done it before (win a national title), but after winning it I have to do it again next year because the feeling's great."

Comic
Relief
[ top ]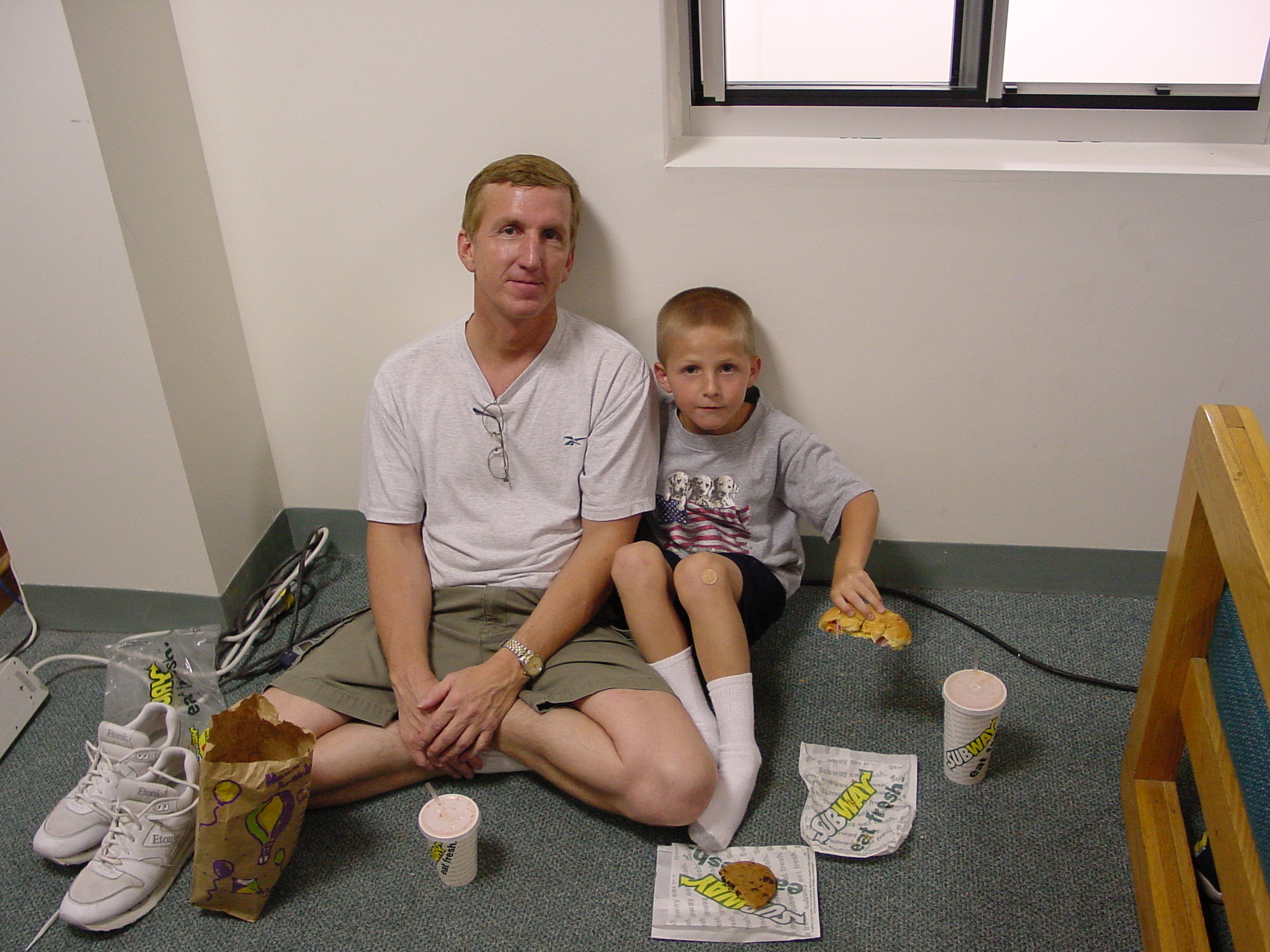 Matt McAdam [pictured with his dad Bob], came up with some of the best straight lines heard all week. Matt is the grandson of 80+ champ Robert McAdam of Texas, who received the Bud Muehleisen Age Group Athlete of the Year Award at National Singles [M/J, pg.46].

The youngest McAdam was in New Hampshire to compete in the 6 and unders for Team Colorado, and was cheering for Rocky Mountain neighbor Anthony Herrera when he came up with his first bomb.

Herrera was down early, 8-2, to Mike Keddie and had called a timeout. As he went for a sip of water Herrera rhetorically asked, "Where's this kid from? He's rolling everything." Matt was quick to help his buddy out. He stood up, tugged Anthony's shirt, and suggested, "Probably Oregon ..." causing everyone within earshot to laugh, including Herrera, who choked on his water and sprayed everyone in the stands. Even though he'd guessed wrong, Matt was certainly in the loop, and was well aware that Oregon was one of the junior powerhouses that had numerous players advancing each day.

Matt then went on to savor his 6- multi-bounce playoff for third. From the sidelines, his father was worried that he was going to get called for serving before his opponent was ready because he was playing so fast. Then at match point Matt stood in the box waiting to serve for an unusual amount of time. Then Dad was worried about a delay of game call.

After Matt won the match, Bob asked his son why he waited so long to serve. Matt's reply was insightful beyond his years, "I was just thinking that it was my last serve ever in 6's. I just wanted to enjoy it."

More of us should take the time to enjoy the little things. Grandpa would definitely be proud.
The First Gold Medalist
[ top ]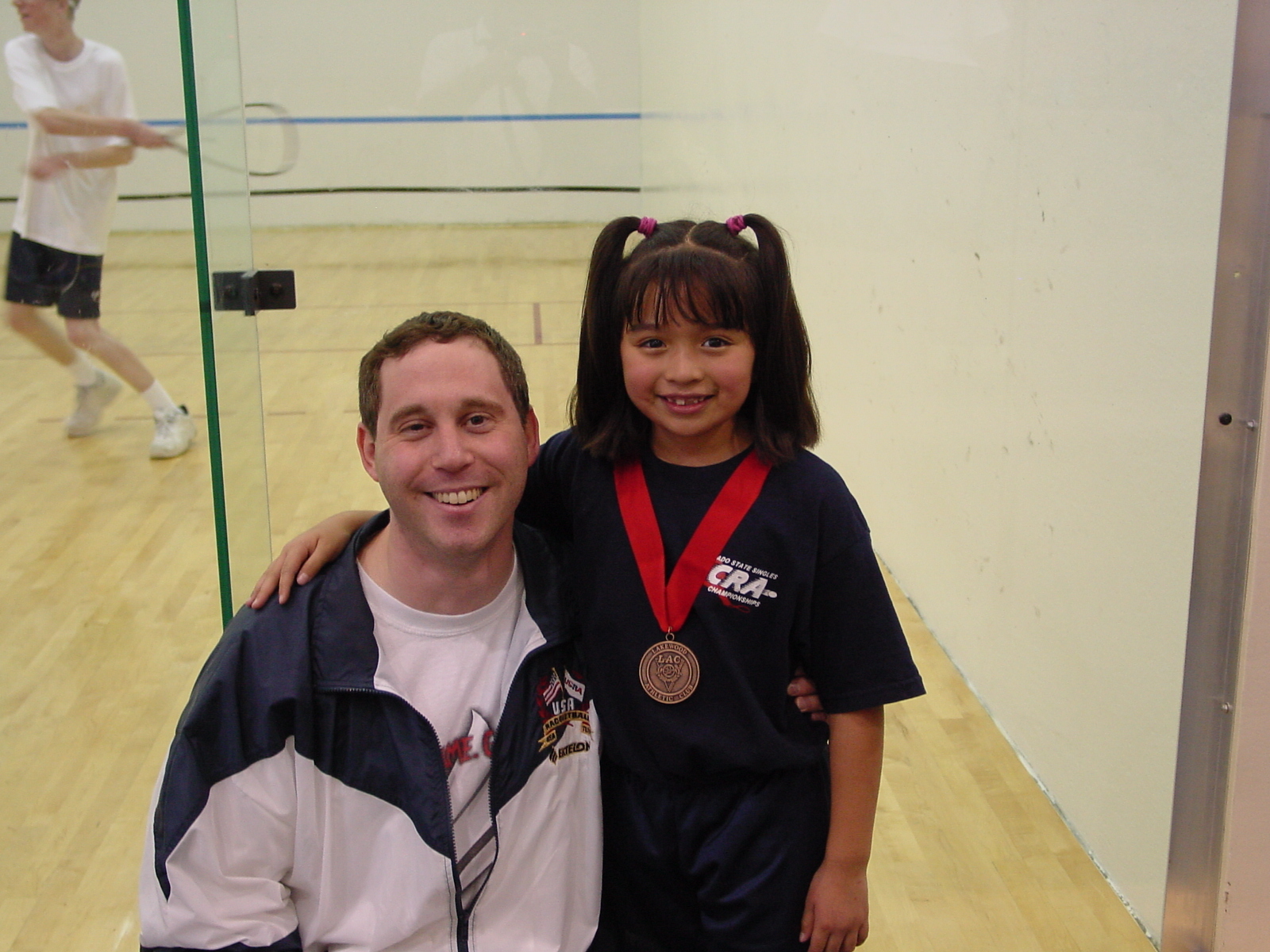 Most of the focus in the Junior Olympics is set on the top qualifying divisions, but there are 16 other divisions that have just as much competition. It's where rising stars are made and the future of racquetball is in their hands.

Elizabeth Vargas, 7, is one of those players and was the first to win a gold medal. She defeated Danielle Falvey in her first round-robin match and then got past Danielle Elder to clinch the title.

"I played well because I practiced and I tried hard," she said after her match.

Elizabeth also earned a bronze medal in the girl's 8- multi-bounce and planned to show her medals to her friends back home "I like to show my medals," she said shyly. "Sometimes they think I am showing off, but … oh well." Elizabeth is pictured with Team Coach Adam Katz [click to enlarge]. Photo: Dan Davis.