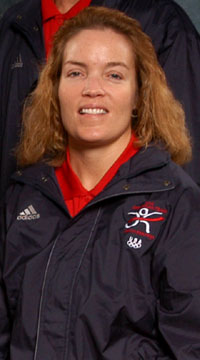 Wednesday, July 30 — Traveling. Two weeks seems like a long time. I am eager to get this going. But as with every international event, it is hard to get the nervousness I need to play well this many days before competition begins. As is tradition, I am filled with self doubt, but reassure myself that, when the time comes, I will be ready. My main concern: How will we all function with 11 individuals in one apartment/suite? I worry that, as a restless sleeper, this will be an issue. I know I need to begin to prepare mentally for this; perhaps one of the perceived obstacles enroute to the gold.

Thursday, July 31 — Still Traveling. Team briefing video makes me remember that getting here has been my goal since '99. Just when I think I am really fit, being around other USA athletes makes me realize there is so much room for improvement.

In Tampa's airport, Ruben steals the passport of an athlete from another sport. Typical Ruben. He delays departure a good 30 minutes, but it is good for a laugh.

The apartment suite is better than anticipated. Time to settle in and establish my space and living quarters, which will allow me to begin to get in my routine.

Friday, August 1 — First Day of Practice and Opening Ceremonies. We see the club for the first time and the courts are great. It's a very nice facility. As we walk toward the stadium to march in as Team USA, it is difficult to fight back tears, remembering all the hard work it has taken to get here and how important it is to be here.

The Weekend, August 2-3 — Second & Third Practice Days. It is hard to stay on my routine here, so long before competition. Practices go as usual. It's an uncomfortable feeling, always playing tentatively against my teammates. It always makes me wonder, "Is this how I will play once we start?" I am content knowing this is a common feeling with every trip and am confident and hopeful I will be ready when the time comes.

Monday, August 4 — Last Practice Day. Team USA is settling into their corners of the apartment. It begins to feel livable, though not ideal. I need my space and solitude, and am determined to find ways to get it.

Tuesday, August 5 — Competition Begins. In a way, it is nice to begin after being here almost a week. It is time to determine my fate. Beginning to feel the nervousness, and I am a little envious of the comfort found in being part of an actual team - like volleyball or B-Ball. But in reality, there is so much to be said for having only oneself to hold accountable or hopefully to credit, and having the courage to do this on my own. I wouldn't have it any other way, singles competition, for me, is where it's at.

The Round Robin's don't necessarily go as predicted. I am certain the main draw will be full of surprises. There is no use thinking ahead. I have to attempt to do the things I need to do to play well. I can't worry about who or what will come next.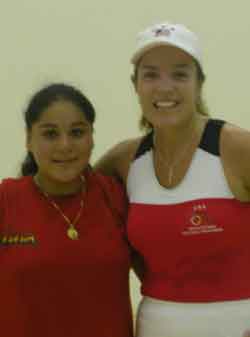 Gudinas (right) with Carola Loma ...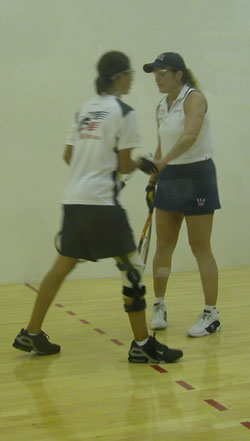 ... and with Claudine Garcia
Wednesday, August 6 — Second Day of Round-Robin. I play Lupita Torres from Mexico. I win the first game, 15-5 and go up 10-4 in the second. The next thing I know it is 10-8, although I ultimately win 15-9, I am displeased with Lupita's run of four points. I know I won't be able to allow runs like that in the medal rounds. Hopefully, this will sharpen me for tomorrow.
Thursday, August 7 — Third Day of Round Robin. I am nervous about my match with youngster Carola Loma of Bolivia. She took care of Lupita easily when they played. I know this little girl is going to be good. She's a server, a getter, a shooter. I start strong. The nervous energy helps me. I beat Carola 15-1, 15-1.
She never gets going, but she is nervous to play me and our scores are no indications of how great she will become. I like the way I am feeling on the court, but have a feeling I will draw Claudine Garcia in the quarter of the medal rounds. I find out this is indeed true. I am certain I will have to bring my best game to beat her, as she will have her hometown crowd behind her.
Friday, August 8 — Day One of Medal Round. Claudine and I have played numerous times. I never remember my record against her, only the potential she has to beat anyone here. She is a fair player and a good shooter. I feel a mix of quiet confidence and dread. The dread is normal, but I am eager to see what I can do.
The match goes more smoothly than anticipated, 15-4, 15-6. It is enjoyable to silence any Chicago critics that doubted my chances with Claudine.
Saturday, August 9 — Day Two of Medal Round. My match with Angela Grisar of Chile; Angela has had the best event of anyone as an underdog, so far. I respect her game. I am nervous, especially since many U.S. Team members began feeling ill last night. I slept restlessly with a sore throat and congestion. Surprisingly, this hampers my play in no way whatsoever. Right until 5-5, I runoff 24 straight, looking at a 14-0 lead in game two. It is a relief to have this over with, but I know I will have to get rest tonight to do this all again tomorrow.
My reward for winning today: having to feel nauseous and painfully nervous for one more day. But this is the way it is at every event, and I guess this is what it is all about: Having the courage time and time again to put myself out there-- win or lose, with no excuses.
Sunday, August 10 — Gold Medal Match. I wake up hoping I will feel nauseous. That is always a good sign for me. If I am not nervous, then I really start to worry. I make myself go through my rituals. Sometimes it is not easy. Many days I wish to get back under the covers and sleep away the stress, see a movie and have an unhealthy dinner; anything but wonder what my fate will be. Again there is a mix of excitement and dread.
I wake up after tossing and turning all night. As I tremble, I remind myself this is a good sign for me. I force myself to go through my routine, which does not come easily. This is a bad sign. I have no feel for how things will go. I have a mix of thoughts on a day when I need to quiet my mind.
The countdown begins: 25 minutes to the start. What will my day hold? I pray I will do well. But my start is less than stellar. I am a completely different person than all week. I know this will be a mental struggle. Fortunately, this is my strength.
I cannot silence my mind. I justify a potential loss. Would a loss here ruin my year? No. Yes! A few things occur that urge me on to "chip away." Somehow, through one of my less pretty performances I manage to win game two, and the tiebreaker 11-5. I feel comfortable infrequently throughout. But it doesn't matter to me if it was a beautiful match for the fans. It is a mission accomplished, a goal of four years captured. Mostly I am relieved and overjoyed to silence any critics I have.