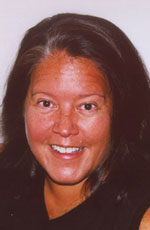 And don't forget about the campaign! Go to the online donation form and make your tax-deductible gift today!
FROM THE EDITOR: Smile for the Birdy
by Linda Mojer
I draw the line at taking photographs. Iím just not particularly good at it, so ó even though Iíll snap one for a tourist every now and then ó itís only because I donít expect to get called on it when their foreheads are missing later on. Photography is one of those things that falls under my bumper sticker guideline, of ďIf at first you donít succeed, quickly deny that you were ever trying ...Ē Iíve learned not to try anymore.

Just the same, I do know what I like, and I can line up a group shot like a drill sergeant (so that whoever does take the picture gets all the faces). I know what I want when it comes time to match images with words, and when photos come in, Iím as picky as I can be with what we have to work with.

So now that practically everyone (except me) has a digital camera, hereís what Iíve learned (ďif at first you donít succeed ...Ē). Itís convenient. Itís simple! Over the past 18 months or so, the percentage of digital images submitted to, and used in, RACQUETBALL has risen to about half. This is good in pre-press, since scanning time goes way down. This is bad in production, since selection time goes way up (I can speed-flip through a hundred prints in about a minute; it takes me over an hour to pull up the same number of images from a CD). Then thereís the ease and immediacy of being to accept emailed images on deadline. But sometimes resolution is high and the print quality is dependable; sometimes what looks good on screen doesnít ďhold upĒ on paper. Most of the time, I canít know until itís too late ...

To my mind, there are two issues: time and quality (volume doesnít seem to be a problem). If youíre a digital shutterbug, hereís how you can address them, plus go one step further and ó in so doing ó greatly increase my fondness for you, and your photos.

Please do a preliminary ďeditĒ of your album. On average, a feature story may carry up to 3-4 photos per finished page. If you are sending photos from a major event, take a hard look at what you have, and send in no more than ten (10) of your very best images. If you are sending in a 200-word story about a local event, give us your clearest, most-compelling 3-4 shots to choose from. Make sure that youíve captioned everything with the names of everyone pictured, and donít forget the photographer. And your stock will rise dramatically if you rename your shots from the ďDSC0002389Ē filenames assigned by your camera, to a more relevant clue about the photo subject (mysonontheawardpodium1.jpg, for instance).

Finally, refer to the online guidelines for submitting photographs at www.racqmag.com > ďguidelinesĒ. Iíll be doing some research to learn a bit more about the subject myself (without actually shooting any digital photos myself, mind you) so that, by the time you read this, there will be some expanded technical tips for digital imaging to help you get your stories and photos published. Good luck!