The "Players helping Players" Fundraising Campaign
by Randy Stafford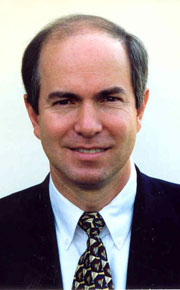 create a legacy
terms of endearment
donate online
download .pdf form
Campaign Kickoff
Before you read further, I wanted — on a personal note — to tell you that no one asked me to write this letter or start a fundraising campaign. I am a player just like you, and I am concerned that if we don't change and improve the way our sport is run, we will never see another heyday for racquetball. I do not want our sport to fade away. This can happen — and will happen — if we do not do all that we can to help.

Also, you should know that I've only been on the USRA Board of Directors for a few months. I was, and still am, an outsider — just like you — to the inner workings of our sport. Even though I have played racquetball for 34 years, I have always been content to let other people be involved in running our sport. Now, at 48, I have seen some of what was going on, and I can see that those leaders have truly done an outstanding job with the resources at their disposal. No one has gotten rich at these posts, and it has been a daily struggle for those who have done so for years. Yes, there have been some mistakes and misunderstandings, but overall I think that former and current leaders have done a remarkable job with a very diverse group of people.

I only want our sport to grow and I believe that supporting the USRA with our personal donations is the first step in achieving the goal. I hope that, as you read through the eyes of this "outsider," you can gain an understanding of what is going on, and come to trust and support this organization.

My appeal to you as an individual is because I love the sport, just like you do. My board service is completely volunteer and I will receive no benefits from any of my efforts, except to see our sport grow and watch the many new beginners start to learn our sport. I get so much joy watching kids playing and laughing while participating in their first game of racquetball. There aren't many sports around where an individual can play for the first time, have fun and get a great workout.

The list of benefits I've received from racquetball is just too long to mention. It has given me exercise for my entire life, many lifelong friends and business associates, and a sense of belonging within a sport. Not to mention the warrior-like attitude that players get when we step into a court and the benefits that we derive from being able to express ourselves, like no where else. Only players know what I mean by the high that comes from playing a hard hour of racquetball against our weekly opponent. Where else can we get a great, fun workout in an hour and actually have a smile on our faces when we're finished? Have you ever seen a jogger going down the street smiling?

But maybe you feel that you've given of your valuable time, and I know that volunteers have been the backbone of this organization for many years. There are many of us who have helped in many ways, and given many hours, to support our sport on a local level. There are lots of great ways to help on the local level — helping at a tournament, making calls for a ladder, giving lessons to a new player — but now we must understand that we need to help our sport financially, on a large scale. It basically boils down to that each of us needs to pay back to the sport that has given us so much personally. I understand that most of us already give to many different areas of interest in which we are involved. It is racquetball's turn to benefit from our giving and now is the time.
I wanted to take this opportunity to bring you up to date on a few matters of importance regarding the USRA and its need for a major fundraising campaign. I've been on the USRA board for only a few months, but I've already discovered many interesting things.
THE SITUATION
First of all, I've learned that this organization is one of the most giving that I have ever known; they give and give to support racquetball programs in many different areas. As the only national governing body for the sport, the USRA has developed many successful programs over the years, including tournaments, international events and teams, rules, equipment reviews, teaching at all levels, state organizations, RACQUETBALL magazine, and much more. The organization is run by a small group of individuals who have devoted their working careers to the goal of promoting racquetball. They have accomplished all this, and much more, through support from a small pool of industry sponsors and funding from the U.S. Olympic committee. They have never asked the membership – on the whole — to support the association financially. I have never seen a non-profit organization operate wholly and as successfully as the USRA has, for so many years, without financial help from its members.
Changing economic times over the past three years have had an impact on businesses nationwide, and the USRA has not gone unaffected. Advertising dollars and corporate sponsorship have become very scarce. In response, the USRA has also changed by shifting priorities, becoming more efficient, dropping some programs and striving to become a more dynamic association. They continue to both develop realistic short-term goals and look forward to achieving long-term goals. Unfortunately, reduced budgets do not allow them to continue to support racquetball at the same levels that they have in the past without help from the membership.
So many different hardships have caused us to re-focus our priorities, and at the same time we are more determined to appreciate and sustain our American way of life. Personally, I want to re-focus on the areas that I think are important. I have always assumed that the other person will get the job done, and that has usually been the case. Now I realize that each of us must do our part to be actively involved in the important things or they may just disappear altogether. I see racquetball being pressured from all different angles. First it was aerobics, then biking and cross training. Now, there are so many new activities (not to mention old standbys like football) that have sliced and diced our racquetball population.
Despite all this, racquetball participation the past few years has actually increased. Yes, increased. Even with the pressures I mentioned, racquetball is actually on a slight rise. And I think I know the main two reasons. First of all, and most important, it's just plain fun and beneficial to the player. Secondly, I believe the USRA's long-standing programs are finally paying off. For racquetball participation to actually be increasing in these difficult times [up 2.7% just last year, according to the SGMA] is just plain exciting.
For myself, there is one area that I think needs a tremendous amount of work. At the clubs I play in and the tournaments I attend, the players are mostly men, mostly over 35. I remember when I first started it seemed like the sport was evenly divided between men and women, tournaments were four times the size, and filled with young people. It's not hard to guess what will happen to our sport if we don't figure out a way to get kids and women playing again, and do this very soon.
I have asked for the USRA's list of short-term goals. In the first year of his service as Executive Director, Dr. Jim Hiser has shown real focus and determination in identifying this list of short-term goals and promoting racquetball from within. I am real excited with what I've seen and I know with time and money, these goals will be accomplished. They are:

1. Increased membership services
2. Financial stability - USRA Foundation
3. Interactive club programs
4. National ranking system
5. National training center
THE "PLAYERS HELPING
PLAYERS" CAMPAIGN
For these reasons – trust in our membership, positive growth in the sport, and established needs — we have decided to start a fundraising campaign to both relieve current budget pressures and to build a foundation for racquetball's future. The slogan for this effort will be "Players helping Players" and by making a donation to this campaign you will be joining myself and others in preserving what is important to us, in the years to come.
If you will join with me in personally investing in the USRA, I promise to be your representative to make sure these dollars are spent properly and effectively. My dollars will be there too. I'll also make you another promise: I will work with the USRA to develop a comprehensive long-term plan, then follow-up by approaching corporate and charitable donors to try to sell them on giving to the USRA as well. This will take some time but I believe that, with the right leadership and proper planning, we can achieve both the short- and long-term goals.
Very soon, I will be reporting on the long-term goals and our progress in developing the larger donors. I believe that we need to somehow hire a professional marketing company to sell our sport to corporate America. I think we play a clean, fun sport that companies would sponsor if given the right marketing plan, presented professionally.
The USRA governs and promotes racquetball by whatever means that it can. It has done this important work through the talents of volunteers and staff, funded by companies through their donations. But we are faced with dwindling resources in all areas and if we do not make up the difference from individual donations now, we will see programs shrink even further. They have pretty much already cut all the programs that they could without damaging the integrity of the association. With declining corporate support, we are now faced with the hard choices of further budget cuts and reducing the association to a much smaller format, or raising money from our players to continue our work.
I think that our player base will care enough about preserving the benefits that we have received for so long, for free, that it will realize that now is our time to step up to the plate and lend a big helping hand. Please understand that this is not the time to think about what the next person will do. This is when all of us need to do our part and understand we are in this together. Now is the time to care even more than ever about our sport.
In recalling the old axiom "Don't throw good money after bad." I assure you that this is not the case with the USRA, at this point in its history. These donations will be well spent (or invested for the long term), with the main goal of "players helping players." Please help us help the sport with your tax-deductible contribution, today.
I urge you to contact me if you have any questions regarding this campaign. And thanks for reading such a long article, but I felt it was necessary to explain all the details of what we are trying to accomplish.
I look forward to hearing from you!
Randy Stafford, USRA Member &
Fundraising Chair, Board of Directors