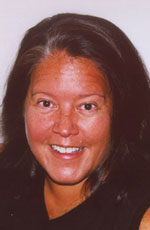 FROM THE EDITOR: Mission Control
by Linda Mojer
In August, the USRA Board of Directors and national staff held a special administrative session to discuss long-term goals and to re-visit the organization's mission statement. At the close of a long day with a professional facilitator, that statement was condensed to a single sentence, which now reads: The USRA is dedicated to promoting the sport of racquetball in the United States for the purpose of developing competitive players.

What was the point of this exercise? Well —perhaps more so than simply achieving the consensus goals of "focus" and "direction" for the sport's leaders — the statement might say more by omission than by anything else. Huh? Sorry ... It's not what it says that is particularly meaningful (or even different), but what it doesn't say.

It doesn't say that the USRA is responsible for convincing club owners to keep courts open. We are thrilled to be able to do that whenever we can, but very often — by the time we're frantically called upon — management decisions have already been made, based on low usage, or outright lobbying for your square footage by other fitness interests. We offer program information that can help build participation, but someone (locally) has to take responsibility for implementing those programs. It doesn't say that the USRA is a clearinghouse for club management, profitability and/or public information on where to find a court. There are professional organizations, like IHRSA and a growing number of independent websites, with that aim.

It doesn't say that the USRA is responsible for equipment sales, or consumer buying trends. We like to see that the market is healthy, and that USRA members represent a considerable percentage of that market, since that's good for everyone. But — beyond official product partnerships — we offer visibility for marketers and advertisers through the magazine and sponsorship of national events. For creating consumer demand and a profitable market, there are professional organizations, like the RMA, with that aim.

It does say that the USRA promotes the sport (through RACQUETBALL magazine, and sanctioned tournaments, and state associations, and membership, and national teams, and special programs, and marquee events and scholarships, and ... ). It does say that the competitive player is the end result (and since racquetball, by nature, is competitive at all levels, it's all inclusive). That aim - alone - is an important component of what is needed for the sport to grow. It needs an environment (courts); it needs consumer marketing and demand (manufacturers); and it needs an organized player base (USRA).

At any given moment, any one of these components may seem to be struggling, and require change. But it's always wise to be careful what you wish for ... as you may surely get it. Going into the holiday season, I know what I want. How about you? More importantly, are you willing to be very, very good to get it? Happy Holidays!