Lynn Adams: Queen of the Courts
by Dick Barton


Over the past quarter century, racquetball has seen some great professional players. Among them is one of the most dominant female players ever to step onto a court ... Lynn Adams.
Lynn Adams in her prime, in a classic match-up against rival Heather McKay. Photo: Art Shay [International Racquetball, December 1983].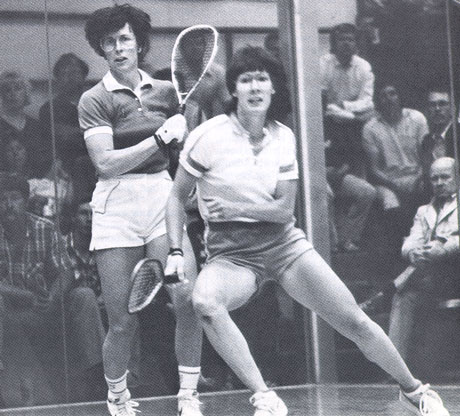 Lynn went from being a 19-year-old college kid who caught the "racquetball bug," to professional glory and eventually into the Racquetball Hall of Fame — with lots of stops in between. Her illustrious career has seen its ups and downs, and she's had more than her share of challenges. But she remembers all of it fondly.

"I have always loved all kinds of sports, but from the very beginning, found racquetball to be the perfect game for me," Lynn says. She credits her athletic ability to a father who was a two-sport college athlete. As she was growing up, he taught her to train hard, focus on the basics and play to win.

While attending Orange Coast College in southern California, Lynn was active in track, specializing in the 800-meter and 1500-meter runs. From the school's track, she could see outdoor racquetball courts across the street. She often wondered about the game she saw being played there.

One day, she was talking about the courts to a young man, who invited her to lunch and offered to provide some instruction in racquetball. Lynn accepted both offers. The lessons were short-lived as she went on to defeat the poor fellow. From then on, she was hooked. So, when UCLA called to offer her a track scholarship, she turned it down in order to pursue racquetball.

Later, as she was learning the game, she met Jim Carson, who would become her first coach and, later, her first husband. Lynn decided to turn pro one day when she and Jim went to see a professional match at Kings Court in Huntington Beach, California. As she observed the competition, Lynn decided, "I can do that." So right there in the stands, she and Jim formed what was to become a winning partnership.

Lynn explains, "Jim is a unique person who, as a coach, was able to push me to overcome any weaknesses on the court. He was a guy I loved but hated at times for what he made me do. It was tough love, I guess."

Lynn recalls that, in the early days when Marty Hogan and Charlie Brumfield were the touring pros, it was hard for a woman to get started. "I got my butt kicked a lot in those days," she laughs. "After working for a straight six months with Jim on such basics as stroke mechanics, I tried a few tournaments at first the B level, then the A. But soon I decided that, since I was getting beat regularly, I might as well get beat by the best. So I began entering open competitions."

This kind of thinking, and Jim's good coaching, eventually got Lynn's game to where she had no apparent weaknesses that could be exploited by opponents. She just kept getting better and tougher to beat.

"I believe I became dominant on the court because, unlike most players who hate to work on their weaknesses, I worked long hours to turn any weaknesses into strengths," she explained.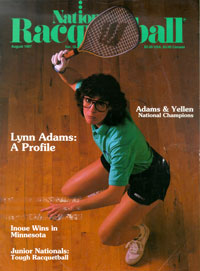 With the support of friends and family, Lynn launched her professional racquetball career. It took three long, hard years to get into the Top three on the pro tour, but she did it.

Early in her career, Lynn looked up to Heather McKay, a superb athlete who dominated first the world of squash for 20 years (losing only once in that period). At age 36, Heather turned her energy and talents to becoming a leading force in racquetball. She and Lynn enjoyed many great matches, and they kept a running score until Heather was ready to retire. By the DP Nationals in Boston, Heather had won 20 times; Lynn 19.

Since this was Heather's last tournament, Lynn was looking forward to meeting her in the finals and evening the score. But Heather was beaten in the semi-finals and Lynn never got her chance. To this day, she teases Heather that she lost on purpose to avoid giving Lynn a chance at one more win against her.

"In the early 80s, Heather was the finest female athlete I ever knew," declares Lynn. "She was probably the best I ever played against."

Lynn also admired and faced off against such great players as Shannon Wright and Caryn McKinney. But, it is Lynn who could rightfully be termed racquetball's "Queen of the 80s." She won six national pro titles during the 1980s and another national title in 1990.

She regards 1985 as one of her career highlights. Lynn went undefeated for the entire year! No other professional racquetball player can make that claim.

All this glory wasn't earned without great sacrifice and effort. In 1987, Lynn was diagnosed with multiple sclerosis (MS), which weakened her physically and forced her to "relearn" racquetball. With MS, she was unable to train hard and play hard at the same time, so she learned how to play smarter and with less physical effort.

"My mental game picked up after I learned I had MS," she explains. "The body just could not take the punishment of training and playing with my previous all-out style. I had to play more with my head because the disease forced me to play slower and with less power."

But after a serious bout with the disease in 1991, Lynn retired from the rigors of the pro tour. Fortunately, she didn't abandon the game outright, but instead channeled her talent and remaining energy to teaching racquetball to thousands, including this author. "I always did a lot of teaching with clinics and seminars, but after 1991, I could devote much more time to it," she said. "And, I loved it."

With a Spartan work ethic, Lynn went on to teach 50 to 90 clinics per season (basically, September through May) around the country under sponsorship from Ektelon and later Wilson. She promoted the sport, the companies and their products, while teaching a lot of people the love of "her game" along the way.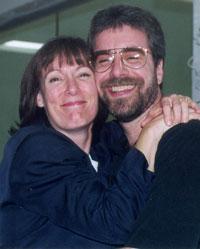 In December 1990, Lynn married her second husband, Rich Clay. The pair first met at a friend's party in Chicago while the then-divorced Lynn was on a business trip. They talked a lot at the party, but Rich was seeing someone else at the time, so Lynn didn't think she would ever hear from "this really cute guy." But after she returned to California, he did call. The couple married within six months.

Daughter Kristen was born in 1994 and soon became the "little queen of travel," as Lynn puts it. Kristen went everywhere with Lynn on her promotional tours and teaching assignments. Since then, Kristen has been in 49 of 50 states (missed Hawaii, poor dear).

Kristen now has a three-year old adopted sister, Jasmine. The children are lucky, because Lynn goes all-out to be a good mother, just as she went all-out to become a world-class racquetball champion.

Lynn's full-force life recently entered a new phase. She is pursuing a "second career" as a music director at Hawthorn Hills Community Church near her home in Libertyville, Illinois. Every Sunday, she's hitting high notes instead of high lobs. "I love it so much I get goose bumps just talking about it," she proclaims.

"From an early age, I always was passionate about music, but got sidetracked by my love for racquetball," she says. "During the 1980s, when I was so active in the sport, I stopped singing altogether, but now I am thrilled to be back into my music."

When asked about the fondest memories and greatest gifts of her career, she replied, "The sport has given me two great husbands, two wonderful daughters, a good deal of money, and the biggest family of all – my racquetball friends and colleagues. They're the greatest, friendliest gang anywhere."

What is her best advice to aspiring professional athletes? "Get a good coach and stay with him or her until you get it right. Train hard on the basics and work to eliminate your weaknesses.

"I am a live-for-the-moment kind of person, but it is fun to think of my past accomplishments," she concludes. "I was fortunate and truly blessed and am today very grateful for the entire experience."

Today, pro racquetball is not what it was in the glory days of the late 1970s and early 80s. But Lynn believes the game will continue to grow in popularity as a recreational pursuit for countless numbers of club players around the world.

For herself, Lynn is busy with her church and family but never too busy for racquetball. She stills gives lessons at her local club. So, dear reader, if you are having trouble with your game, you can still make an appointment with the best there ever was.

About the author: Dick Barton is a lifelong player from Park Ridge, Illinois, and a contributor to Racquetball Magazine. He owns a marketing communications and meeting planning firm.