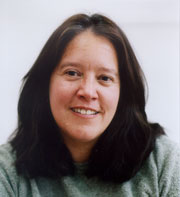 FROM THE EDITOR: Open What, Where & How?
by Linda Mojer
It seems that the operative term in this issue is "open" ... from the U.S. OPEN and its fate as a television property, to defining the true meaning of the term competitively. In each of these areas, the International Racquetball Federation will play an important role in administering policy to an ever-increasing player base worldwide.

On the home front, I've just returned from our regional event in New Mexico, with a boatload of questions briskly burning holes through my remaining brain cells. After several days of casual - as well as semi-heated - discussions with players who've experienced it firsthand, a third component to the term "open" comes to mind. Basically, at what level should U.S. events remain open to foreign nationals?

At USRA national events which serve as qualifiers for the U.S. National Team, players who qualify for national team competition for countries outside the U.S. are restricted from competition in the selected qualifying divisions (men's and women's open), but not from the age and skill divisions. At the regional qualifiers, the same restriction applies to the "open" divisions (not age and skill).

At this particular regional, one parent was pleased with the "reality check" given to his youngsters (who routinely walk through local draws) by the highly-talented group of Mexican juniors who were on hand. Another wasn't so happy. Among the adults, the question of "exclusivity" was a bit muddier. For those who intended to go on to nationals, it was an issue of seeding in age divisions which promise to be highly-competitive in Houston. Then, should non-U.S. citizens be invited to compete in U.S. National Championships at all? Are U.S. citizens allowed to compete in the national championships of other countries? Are more international events needed?

The intent in sharing U.S. events has been to enable players worldwide to test their skills against, now-arguably, the best competitors in the world. The developmental component of the plan has certainly been met, as international players climb the ranks of the pro tour, hold IRF world titles and dominate divisions at each of the annual international events, across the board.

As an equal-opportunity competitor myself (I'm perfectly capable of having my butt kicked by opponents of any nationality), I simply don't have any of the answers to any of these questions ... but I'm certain that our readers - worldwide - have some ideas on the subject. Wanna share?