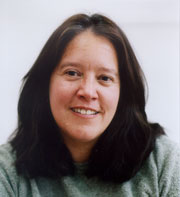 FROM THE EDITOR
Sensationalism at its Best
by Linda Mojer
Finally! I surrender ... fully, whole-heartedly and without reservation! With complete awareness, I expect to receive — once you've read it through — nothing less than 50% grief and 50% total silent assent (but I'll gladly accept less grief), on the overall "feel" of this issue. Yes, it's primarily pro coverage of one of our premiere events. Yes, it's overwhelmingly "female-friendly" in its report-age of the new ladies tour. And yes, (since I'm obviously female) that fact must be the reason for the absolutely unheard of gender balance (well, almost) in this issue.

Why all the angst? What has stolen into the forefront of conciousness for RACQUETBALL? That the sport is, indeed, capable of promoting its high-end athletes on the basis of both their athleticism and marketability? That racquetball players can be attractive, intelligent and hard-working? And that racquetball athletes can stand and be measured against anyone — male or female — on any turf? Well, yes. Of course. No kidding. It's sensationalism at its finest. We just haven't done it in awhile.

So, along those lines — here's something else sensational. Think "Tiger Woods" ... "Venus Williams" ... "Shaquille O'Neil" ... "Derek Jeter" ... "Curt Warner" ...and oh, say, the U.S. Olympic Team gold medalists. Impressed? Pretty big names, to be sure, but there's another on that list. Among the winners of Sports Illustrated's annual Athlete of the Year awards, presented on December 15, was none other than Oklahoma's Chris Coy as SI's first "Young Sportsman of the Year" for 2000. Grab your socks, people ...

Chris Coy plays racquetball. His appearance on SI's annual award program was nothing less than "sensational." His story, which you'll read in the upcoming March/April issue, is remarkable. As a preview, he's shown below — among his "peers" — after a visit to the St. Jude Children's Research Hospital in Memphis.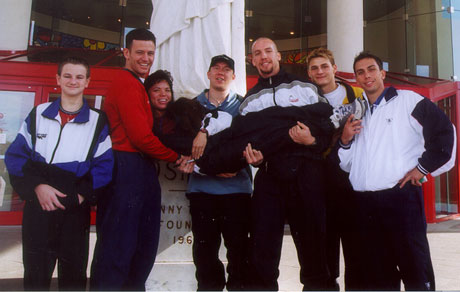 Pictured L-R: Chris Coy, Cliff Swain, Jackie Paraiso, Sudsy Monchik, Doug Eagle, Kane Waselenchuk, John Ellis. Photo: Vicki Hughes.
Every last one of these athletes is exceptionally gifted. And every last one of them is "drop-dead gorgeous" in my book. Sensational? You bet — and well, I just can't find any problem with that ... Happy New Year!