Conine Home Runs with Racquetball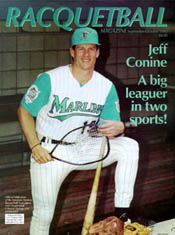 ... While Jeff did a short stint on the pro racquetball tour, he soon moved on to his other love ... baseball. After pitching for UCLA, Jeff played in the minor leagues until the Florida Marlins took him as a first-round pick in the 1992 expansion draft. From there he went on to be selected for the 1995 All-Star Game — and named its MVP — then helped the Marlins win the 1996 World Series.
Cindy and Jeff met at a professional racquetball tournament in New York City, where both she and her brother Tim Doyle were well-known. Ranked as high as No.7 on the women's pro tour before shoulder surgery, Cindy had opted to focus on a different part of her life after recovering from a second bout with injury. Prior to retiring from the sport, Cindy had earned several appointments to the U.S. National Team for wins which included the 1989 Women's Open doubles title. Wife and mother? Why not?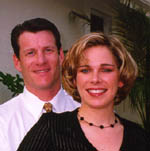 As newlyweds, Jeff and Cindy played in a few national doubles tournaments together, taking third in the 1993 and '94 mixed open divisions. But as Jeff's baseball career became more demanding, the two found themselves unable to compete in racquetball as often as they'd have liked.
Jeff's trade to the Baltimore Orioles earlier this season changed all that. With his baseball season coming to a close only three days prior to the start of the doubles championships in Baltimore, Jeff and Cindy decided to come out of retirement to compete in their own, most-recent, backyard.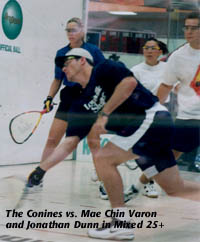 So the Conines paired up in the mixed 25+ division, while Jeff teamed with long-time friend Steve Lerner in the men's 30+. And despite not playing racquetball on a consistent basis for years, both Jeff and Cindy bounced back into championship form immediately.
"It's been a long time since I've played in a tournament," Jeff said. "Your adrenaline gets going and its all comes back pretty quickly though."
Jeff managed to advance to the finals in both divisions, playing as though he had never left the sport. Struggling a bit at first in her opening match, Cindy also quickly returned to top form.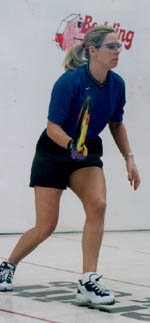 "This was fun, but frustrating," Cindy said. "I used to play at an elite level, so I'm frustrated [by] missing all these shots."
Cindy and Jeff captured the mixed 25+ division title with a 15-11, 15-10 win over Sallie Benedict and Dale Valentine. However, Jeff's luck was not as good in the men's 30+, as he and Lerner came in second to John Kleinschmidt and Chris Wright, who had earlier upset defending champions Michael Bronfeld and Drew Kachtik in the semifinals.
Both Jeff and Cindy agree that their main reason for competing in Baltimore was to renew lost friendships."We were mainly playing in this to have a good time and see some friends, and we ended up doing well. We had a good weekend," Jeff remarked. "The best part was getting to see people that we haven't seen in a long time. We haven't been to one of these things in a while, so it was good to get to see everybody. It's nice to catch up on old times."
Jeff also donated Baltimore Orioles sports memorabilia to the U.S. Junior National Team, including autographed bats and balls, which were auctioned as a fundraiser during the tournament. Jeff stressed the importance of racquetball in his childhood, and hopes to help others gain from the sport what he did.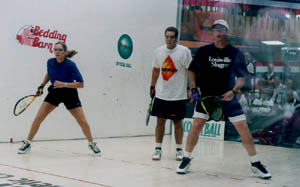 "Discipline is a big thing that racquetball teaches," remarked Jeff, who co-founded with Cindy the Conine All-Star Classic, a celebrity golf tournament to benefit the DiMaggio Children's Hospital. "When I was training for nationals and junior nationals, I was going to the club everyday and working out. It's all on you. If you don't do it, you're not going to play as well. I think it's a good form of discipline. It's helps you in life, too.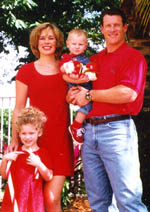 "I think racquetball has helped me tremendously in baseball as far as keeping my eyes and hands sharp for seeing a 90 mph fastball."
Jeff became a free agent at the end of October, and has now returned with Cindy and their two children, Sierra and Griffin, to their Florida home to wait and see what Major League Baseball has in store for them. Racquetball fans hope that — whatever the assignment — it will land the Conines near another national doubles tournament, very soon.