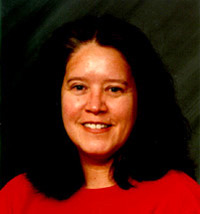 FROM THE EDITOR: What Summer Vacation?
by Linda Mojer
Well, summer may be vacation time for most of you, but here it's all-business, all-the-time! With only eight weeks before the season gets back into full swing, we're in full-tilt "scramble" to get things organized, scheduled and implemented. Oh, and I could tell you some tales about things that have made my life more interesting lately — but I'll save it for when we see each other in person.
What? You insist on knowing now?? Okay, maybe just one tale ... Our Media/PR Manager, Kevin Vicroy, has moved on to bigger and better things. In early June, he was offered the position of Internet & Interactive Media Manager for the U.S. Olympic Committee, where he will oversee it's many and varied website projects. Kevin brought a fresh, journalistic viewpoint to the pages of RACQUETBALL, and we'll sorely miss his work in our pages. At the same time, we're hoping that this will encourage more of you to try your hand at event coverage and send us your interviews, articles and photography. You'll see a "classified" call for low-cost freelancers on page six.
In another post-Houston move, we've decided to delay the publication of the annual rulebook until the September-October issue in the hope of obtaining an industry sponsor to underwrite the production of a smaller version that will fit more neatly into your gear bag. If we're successful in pitching the project, we hope to provide you with a more "court-friendly" rulebook that you can refer to quickly and easily all year long. In the interim, there are no rule changes to be concerned with, so your existing book will remain "good" until the new release comes to your door in September.
And although it may seem like it's a long way off, the entry form for the 4th (yes, 4th) Promus U.S. OPEN Championships appears as the center insert to this issue. This event has become more and more popular each year, and offers a great time for all "down south" in Memphis. Make plans to spend at least part of your holiday season doing what you love most!
Lastly, we've got high hopes for the membership drive that was introduced in the last issue and appears for the second (and final) time on page 49. How hard can it be for you to convince just one person to join the USRA? We're betting on each and every one of you can do just that, and pull off one heck of a feat — doubling our membership in just one year. Forget Y2K ... now, there's a challenge!