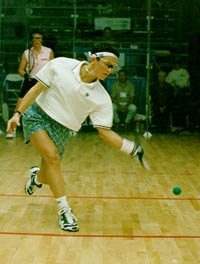 How do you beat Michelle Gould?
Fifth-ranked Lynne Coburn said that you have to "be as consistent as you possibly can be." Marci Drexler, who's beaten Michelle three times in her pro career, agreed, saying, "You've just got to be consistent and finish the rallies."
According to Friedman, "The keys to beating Michelle Gould are: one, to return her serve effectively so you can move her out of center court. The other thing is that when you get her out of center court, you need to pinch."
Among the top four players, the responses were a bit more detailed.
"For me to beat her, I knew that I had to get stronger and quicker," fourth-ranked Fenton said. "I had to become more accurate in my game. When she's accurate, you can't read her serves – they just go over the short line and don't come off the back wall.
"She's got basically three serves – a drive to the forehand, a drive to the backhand and, if she's off a little bit, she might serve the high-lob that kicks off the left side wall. You have to return serve well and pass her. If you can return well, then you can sideout. But, you have to serve almost perfectly to beat her. If you can't score points, forget it."
Although she's never won any of their match-ups, Fenton has taken Gould to five games on two occasions on the pro tour – she even held a 2-1 game advantage in the semi-finals of the 1997 Foxwoods WIRT Pro Nationals in Las Vegas.
"She is beatable, but you have to play very, very well to do it," Fenton said.
Third-ranked Cheryl Gudinas responded to the ultimate question by joking, "I've never beaten her. You're asking me how to beat her, how should I know? What have I ever been able to do?" After the laughter died down, Gudinas continued.
"You have to return serve better. You have to have an effective return. It could be just going to the ceiling and getting her out of the front court and not setting her up. If you set her up, she puts that ball away. She's got a good first step and usually that's all she really needs. You need a drive serve that's not readable – a lob isn't going to cut it with her. A hard 'Z' is effective if it's high because it's out of her power zone. But, you have to have a good drive serve – which has been my problem."
Former pro tour champ Paraiso, who has defeated Gould twice on the pro tour, stated her keys to success against the champ.
"You definitely have to be focused, that's for sure. For me, I have the quickness and focus to return that serve and get her into a rally. Once I do that, I use the pinches or cross-court passes to get her moving.
"The mental part of it too – you've got to believe that you can. A lot of the women, including myself, we've put her in (an unbeatable) position. We've made her seem like she's not beatable because we don't believe we can beat her. I know I can and people have to believe that."
So, now we know how to beat Michelle Gould, based on inside information from those who play her the most. Yet, her losses still seem to occur as often as Sudsy Monchik is rendered speechless. Maybe she knows something the rest of the WIRT doesn't.
"Above all, make no mistakes," Gould said. "I think that one of the reasons that I've been able to stay on top for so many years is because I'm very consistent.
"I always expect that my opponent is going to play that unbelievable game when they play me, I think the people that are the shooters and strength players – people that can play that style of game cause me more fits because it's more physically demanding than somebody who's going to serve me lobs."
Maybe she has some extra motivation that others do not.
"Above all, I hate to lose . . . I can't stand it," she said. "Whether I'm playing darts or golfing, it doesn't matter what I'm doing – I'm just that competitive. I like to do whatever I do very well. That personality, more than anything, has allowed me to play at the level of play that I've played at for years."
When will the Gould dynasty end?
"I have no idea," Gould responded. "I take everything on a two-year basis and re- evaluate as I go. When I walk on the court and I'm no longer having fun and enjoying what I do, then it's time for me to quit. But, I haven't gotten there yet."